6 Reasons to Buy a Chevrolet Tracker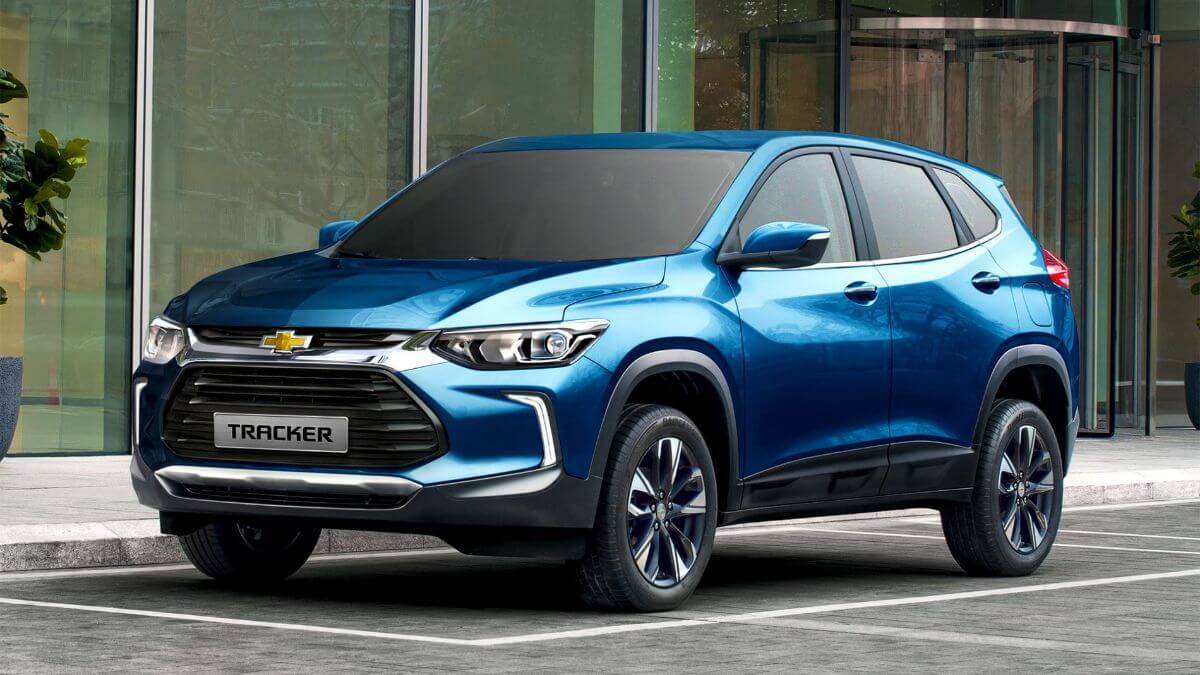 Why should you buy a Chevrolet Tracker?
Sharp and sporty design
Driver-centric interior
Exclusive panoramic roof
New generation MyLink Infotainment System
Top-of-the-line safety features
One-liter, three-cylinder engine
Overview

The Chevrolet Tracker boasts a striking design that seamlessly combines sharp aesthetics with practicality, creating a dynamic and visually appealing SUV.
Inside, the driver takes center stage with an interior designed to enhance control and provide exceptional comfort for both driver and passengers.
Notable features of the Tracker include an exclusive panoramic roof, a cutting-edge infotainment system, top-of-the-line safety features, and a powerful one-liter, three-cylinder engine to deliver a standout performance.
Chevrolet Tracker is sure to capture your attention for all the right reasons. With a plethora of impressive features, an outstanding engine, and a reputation for Chevrolet's quality, this Tracker is ready to meet your needs on the road and exceed your expectations.
If you're in the market for a versatile, reliable, and stylish compact SUV, this is where your search could happily conclude. Let's explore the reasons why you should buy the Chevrolet Tracker, which definitely deserves a spot in your driveway.
Sharp and Sporty Design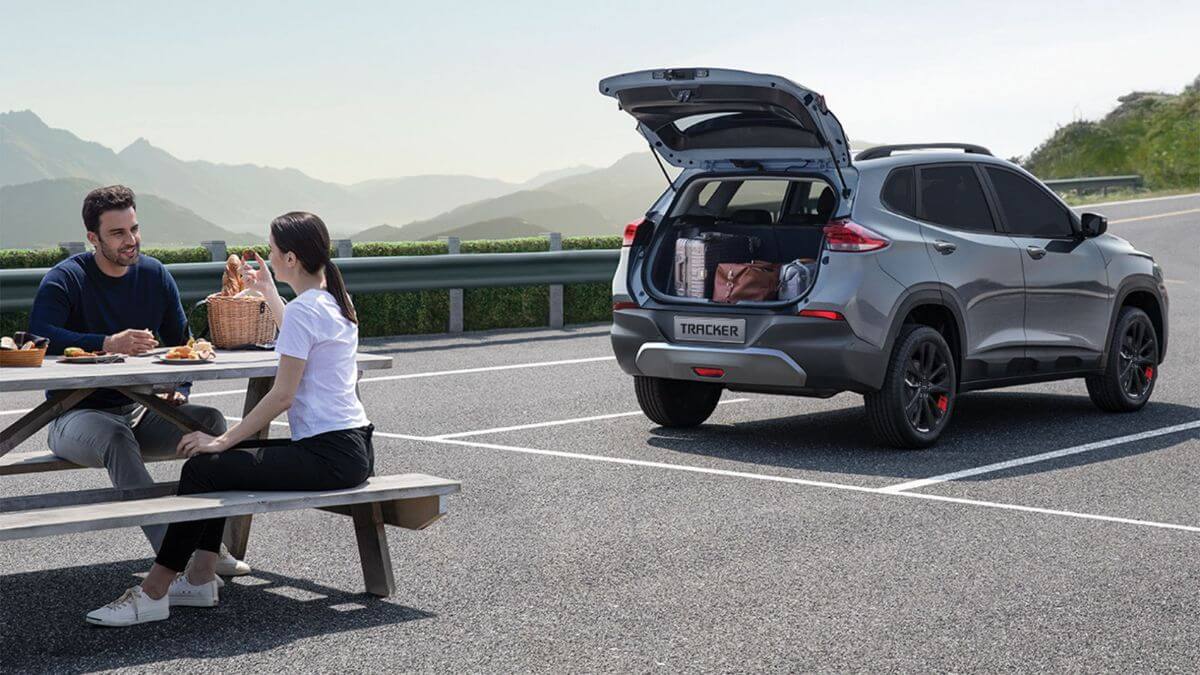 The Tracker's design is a fusion of sharp, sporty aesthetics and practicality. This dynamic design embodies Chevrolet's commitment to marrying style and substance seamlessly.
At first glance, its front commands attention with its striking blacked-out grille, flanked by razor-sharp LED headlights and angular DRLs, combining both visibility and a modern, sporty appeal. This assertive front end assures that the Tracker is well-equipped for the demands of urban streets and off-road escapades.
The Tracker's side profile continues the narrative with bold character lines, underlining its performance potential. Also, its rear contributes to its active character, featuring an integrated skid plate and spoiler.
Driver-Centric Interior
The Chevrolet Tracker's interior provides a world-class driver-centric experience. It places the driver at the core of the driving experience, ensuring ease of use and convenience.
It includes controls that are thoughtfully angled towards the driver to enhance their sense of control. While the Tracker excels as a solo driver's car, it doesn't compromise passenger comfort. Its driver-centric design elevates the overall atmosphere without sacrificing passenger space.
Exclusive Panoramic Roof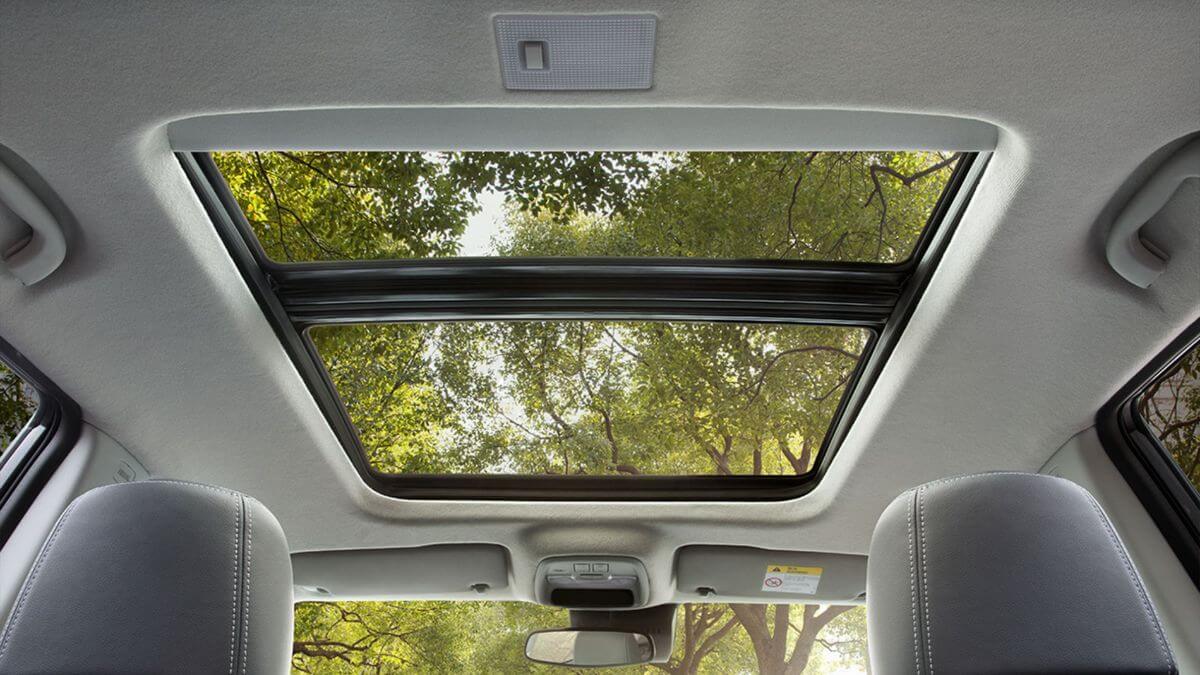 It also offers an exclusive feature that adds a touch of luxury and uniqueness to your driving experience: the panoramic sunroof. It's available in the top-spec LT Redline variant, setting the Tracker apart from its competitors.
The panoramic sunroof flexes a spacious motorized sliding glass that can be effortlessly controlled electronically. It ushers in an abundance of natural light and a feeling of openness that transforms your driving environment.
Moreover, it brings a new level of comfort and sophistication to your SUV, making each sunny day brighter and every drive a memorable experience.
New Generation MyLink Infotainment System
It's no surprise to many that Chevy Tracker showcases cutting-edge MyLink Infotainment System. Its centerpiece is the expansive 8-inch floating touchscreen display, a command center for seamless access to a wide range of features, such as Bluetooth connectivity, USB ports, and an SD card slot. These create a versatile hub for your entertainment and connectivity needs.
A highlight of this system is its integration with Apple CarPlay, which effortlessly links with compatible iPhone models, delivering a smooth and intuitive infotainment experience. This guarantees your Tracker is a modern and connected companion for your long rides.
Top-of-the-Line Safety Features
On the outside of Tracker, you'll be greeted by Automatic Projector Headlamps, LED Daytime Running Lights, and striking 17-inch Black Alloys. These features not only enhance the vehicle's aesthetics but also ensure excellent visibility and road presence.
When you step inside, you'll find a premium interior that's designed for your comfort: the Driver and Passenger Bucket Seats, both provide exceptional support while the Dual Cockpit design adds a touch of sophistication.
It has 20-unit Interior Pocket Spaces as well, where you have plenty of room to store essentials, ensuring a clutter-free environment. Meanwhile, the versatile 60/40 Split-Folding Rear seats make it easy to adapt the interior to your needs, whether you're carrying passengers or cargo.
One-liter, Three-cylinder Engine
The Chevy Tracker's heart is a standout one-liter, three-cylinder engine that sets it apart in the world of crossovers. This turbocharged engine generates an impressive 116 horsepower (hp) and 175 (newton-meters) Nm of torque, offering a blend of power and efficiency that's ideal for a wide range of driving scenarios.
Paired with a 6-speed automatic gearbox featuring a manual mode, this engine provides an engaging driving experience. While its small displacement might raise eyebrows initially, driving the Tracker quickly dispels any doubts—making it an excellent choice for those who seek a harmonious balance between performance and economy in their crossover.
Key Takeaway
With our list of reasons to buy the Chevrolet Tracker, you know it has ticked all the boxes of your personal preference in a car. Whether you have a growing family, prioritize safety, want to save on fuel costs, or seek a well-rounded SUV, this Chevy model excels in every aspect.
With the Chevrolet Tracker, you'll not only enjoy a dependable ride but also gain the peace of mind that comes with driving this vehicle. Don't miss out on the exceptional driving experience that Chevrolet Tracker offers. Explore Chevrolet models on our website today or get in touch with us for more information!