Top Features and Specs of the Chevrolet Trailblazer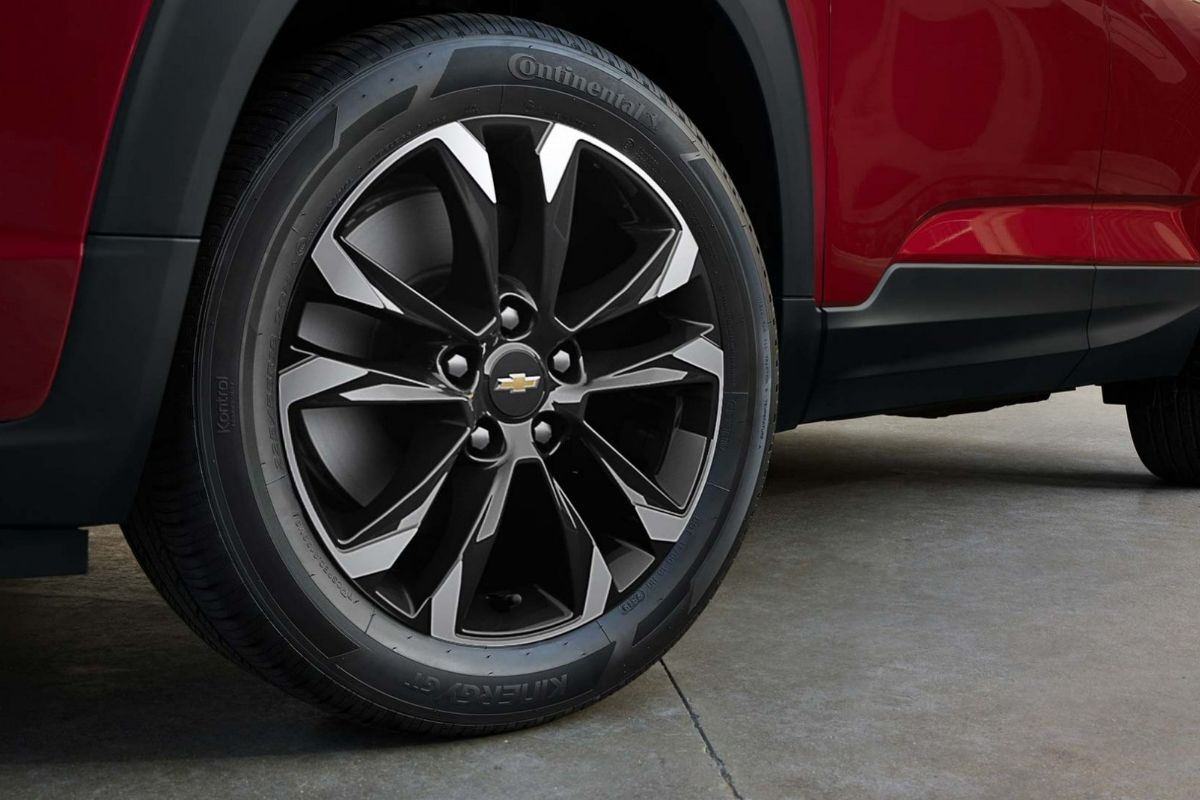 What are some of the top features and specs of the Chevrolet Trailblazer?
Powered by a 1.3-liter GM E-Turbo 3-cylinder engine
Equipped with advanced driver assistance systems
Features a hands-free power liftgate with LED logo projection
Showcases a Camaro-Inspired Fascia
Utilizes a New Generation Lightweight CVT
Overview

The Chevrolet Trailblazer stands out in a competitive SUV market due to its exceptional performance, commitment to safety, and unique design.
The Trailblazer is powered by a 1.3-liter GM E-Turbo 3-cylinder engine, delivering 137 horsepower and 162 lb-ft of torque.
This engine balances power and fuel efficiency for a satisfying driving experience.
The Trailblazer features advanced driver assistance systems such as adaptive cruise control, lane-keeping assist, and emergency braking. These systems enhance safety and reduce driver fatigue during long journeys.
The Chevrolet Trailblazer doesn't just blend into the large herd of SUVs — it distinctively stands out with its core strength of performance, unwavering commitment to safety, and design. In a saturated market, the Trailblazer rises above other models, captivating not just car buffs but also those who are looking for the perfect set of wheels for their family.
In this article, we're going to take a look at the exceptional features and specs of the Chevrolet Trailblazer, highlighting why this is a driving experience that sets new expectations for competing SUVs. So sit back, and fasten your seatbelts — we're propelling your perspective on vehicular mastery.
Powered by a 1.3-liter GM E-Turbo 3-Cylinder Engine
Under the Chevrolet Trailblazer's hood resides a testament to automotive expertise – the 1.3-liter GM E-Turbo 3-cylinder engine. This delivers a power output of 137 horsepower at 5,000 rpm and a torque of 162 lb-ft at 2,500 rpm.
Beyond its impressive power specifications, this engine embodies Chevrolet's commitment to efficiency as it delivers its remarkable performance. Such a blend of power and economy caters to the needs of those desiring both thrilling performance and prudent fuel management in their vehicle.
This engine also reflects Chevrolet's dedication to a refined vehicular performance. Whether one is traversing open interstates or navigating through dense urban traffic, Trailblazer powered by this 1.3-liter GM E-Turbo engine ensures a smooth, satisfying drive – a reflection of Chevrolet's commitment to elevated driving experiences.
Equipped With Advanced Driver Assistance Systems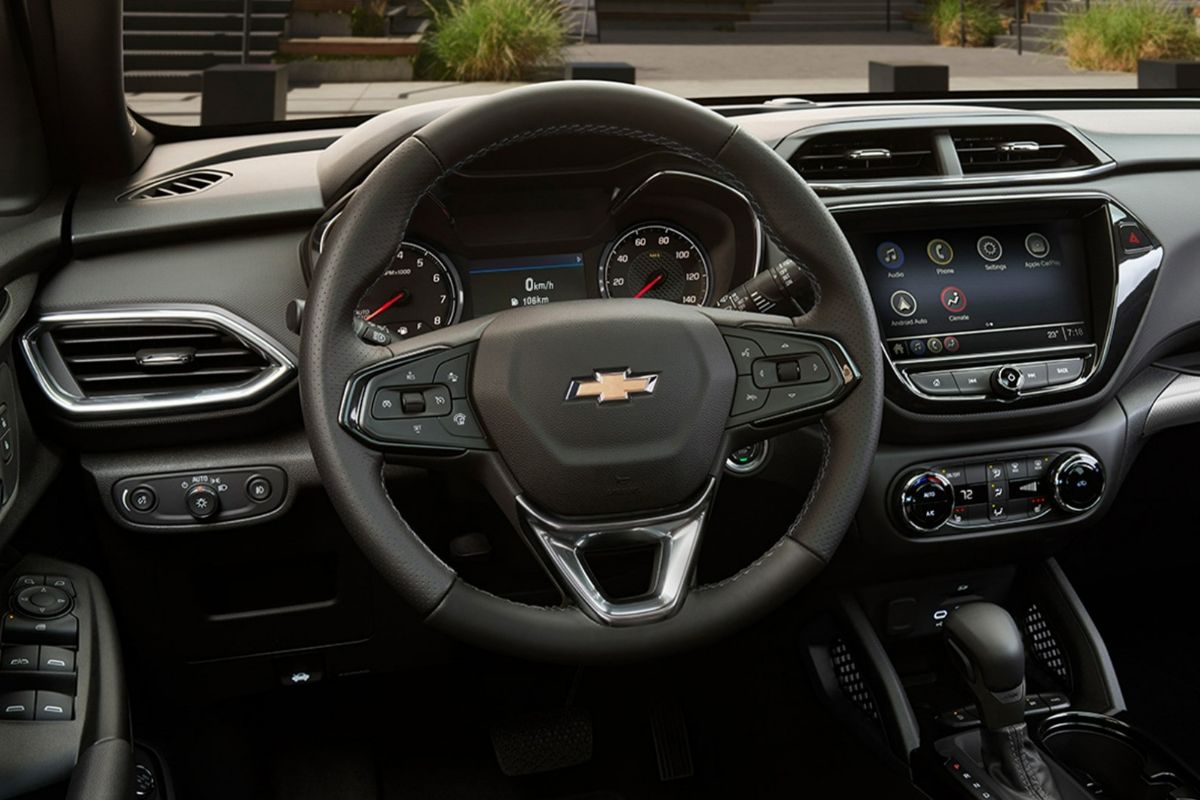 Chevrolet's longstanding mission for enhanced safety continues to shine brightly through the Trailblazer, consolidated by its array of advanced driver assistance systems (ADAS). These strategic tech integrations go beyond mere convenience, substantially boosting the driving experience while endorsing safety as a cornerstone.
Crafted systems such as adaptive cruise control, lane-keeping assist, and emergency braking perform in perfect unison, encapsulating the Trailblazer and its passengers within a fortified safety shell.
Beyond the pivotal role these systems play in accident risk reduction, they greatly mitigate the exhaustion associated with extended driving, thus transforming lengthy journeys into manageable and enjoyable experiences.
Features a Hands-Free Power Liftgate With LED Logo Projection
One of the prominent features and specs of the Chevrolet Trailblazer is its hands-free power liftgate—an innovation that brings simplicity and efficiency into daily vehicular interactions. The act of loading and unloading evolves into a seamless operation with a simple foot movement underneath the rear bumper, triggering the liftgate to open automatically, even when your hands are occupied.
However, the distinct edge the Trailblazer holds is the fine balance it strikes between utility and luxury—the sophisticated LED logo projection. As the liftgate opens grandly, the esteemed Chevrolet emblem is elegantly projected onto the ground, turning a functional feature into a stylish and memorable presentation.
Showcases a Camaro-Inspired Fascia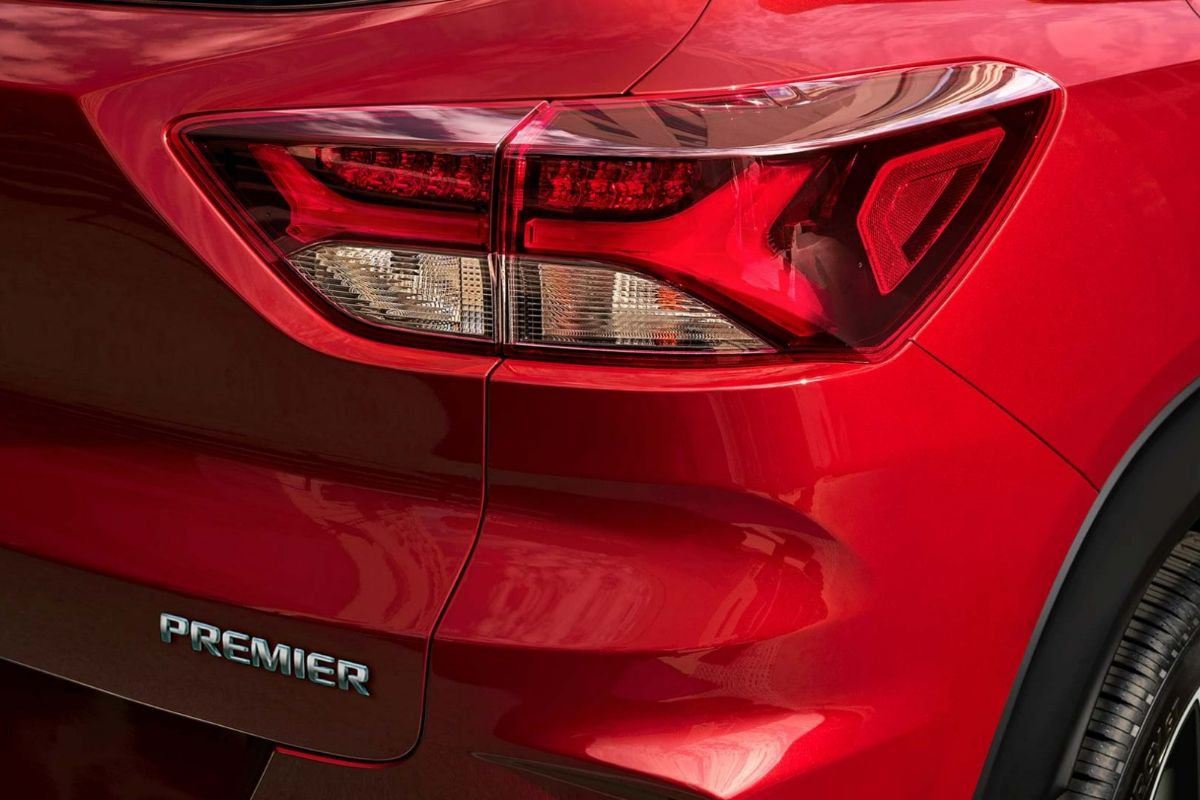 Manifesting a design influenced by the renowned Camaro, the Trailblazer proudly showcases its illustrious lineage. This grand display is a bold tribute to its dynamic capabilities. Studded with Camaro-like elements, the confident façade of the Trailblazer reinforces its performance-oriented allure. This isn't merely an SUV that attracts glances; it's a trailblazing icon that embodies the spirit of disruption.
Read also: Spaciousness meets style: the Chevrolet Trailblazer's Interior Dimensions and Configurations
Utilizes a New Generation Lightweight CVT
Hidden within the framework of the Trailblazer is a transformative feature – a new-generation, lightweight Continuously Variable Transmission (CVT). This modern marvel of transmission technology elevates your driving encounter, providing seamless power delivery and optimizing the performance of the engine for a driving experience that is both smooth and efficient.
Regardless if you're merging onto a fast-paced highway or maneuvering winding mountain roads, the CVT-equipped Trailblazer ensures you have the necessary power at your disposal exactly when needed. And most importantly, this is achieved without forsaking fuel efficiency.
You might be interested in: Chevrolet Car cameos in Barbie Movie 2023
Key Takeaway
In a market that's brimming with options, the Chevrolet Trailblazer stands tall. Its powerful engine, features-packed safety setup, the convenience of a hands-free liftgate, iconic Chevy style, and efficient rides make it a top choice.
Ready to see what the Trailblazer can offer you firsthand? Then, head to your nearest Chevrolet dealership, check out all the specifics on the Chevy official website or on AutoDeal, or better yet, take one out for a spin by contacting us today. Happy driving!