Features and Specs of Chevrolet Tracker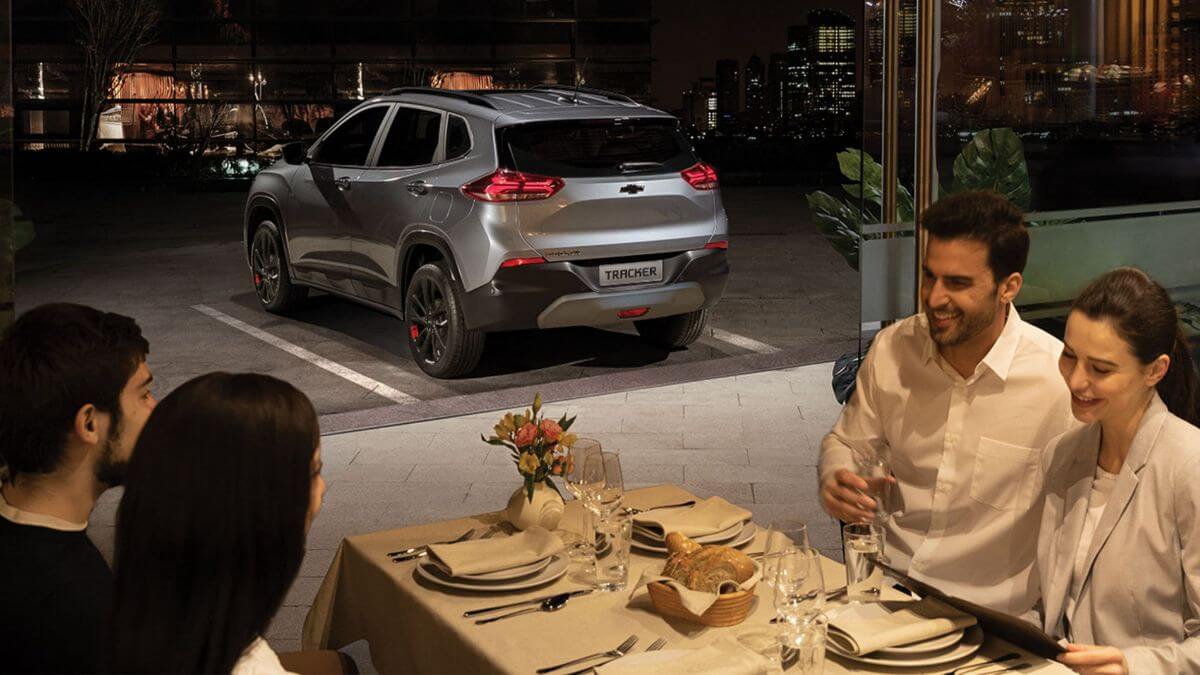 Overview

The Chevrolet Tracker boasts an assertive exterior design, featuring aggressive headlamp units and bold character lines that make it distinctive in the compact SUV segment.
Inside, the Tracker offers a spacious and functional interior with a blend of durable materials and stylish accents, highlighted by a floating touchscreen display and generous trunk space for larger items.
Equipped with a peppy 1.0-liter turbocharged engine, the Tracker delivers a balanced ride and handling experience. Additional features like the touchscreen infotainment system and advanced safety features improve the driving experience for modern drivers.
The Chevrolet Tracker is a compact SUV that offers a versatile and reliable driving experience. Packed with a range of impressive features and specifications, this vehicle caters to the needs of modern drivers.
From its powertrain options to its safety and technology features, the Chevrolet Tracker delivers a well-rounded package that ensures both comfort and performance on the road. Let's explore the key features and specs that make the Chevrolet Tracker stand out in the highly competitive SUV market.
Exterior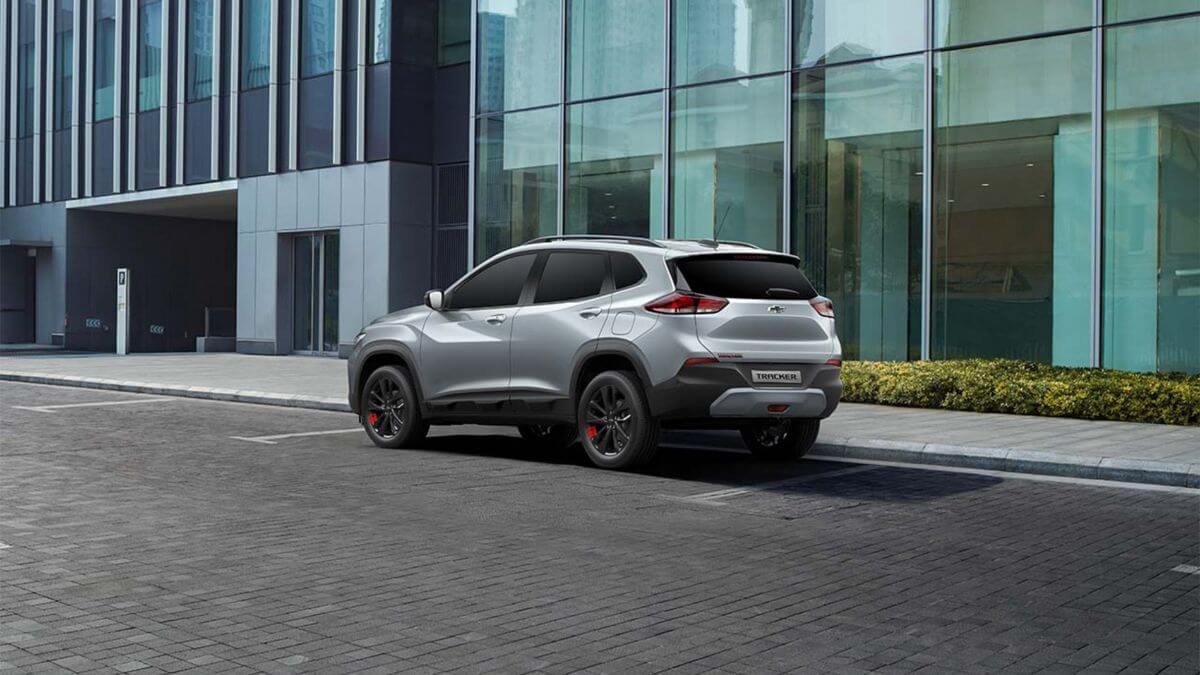 The Chevrolet Tracker boasts an assertive and modern exterior design that sets it apart in the subcompact crossover segment. The front end is marked by its aggressive headlamp units, which incorporate attractive LED daytime running lights for enhanced visibility and a contemporary look. On the other hand, its dominant front grille and bold character lines contribute to its strong road presence.
The Tracker rides on stealthy 17-inch black wheels and offers a commendable 161mm of ground clearance, emphasizing its sporty character and ability to handle various road conditions. As we move toward the rear, the design takes a more straightforward approach with relatively conventional tail lights and an overall clean aesthetic.
With dimensions of 4,270mm in length, 1,791mm in width, 1,627mm in height, and a 2,570mm wheelbase, this Chevy's exterior design perfectly complements its size, which offers a balanced blend of style and practicality for an enjoyable driving experience.
Interior
The interior of the Tracker maintains a serious and functional design that aligns with its exterior. The cabin blends hard plastics and soft-touch materials, offering durability and minor scuffs that are hardly noticeable.
The light trim around the A/C vents and gear shifter, along with red stitching on the dashboard, door panels, and seats, add splashes of color to the space. Meanwhile, the centerpiece is a stylish floating touchscreen display, contributing to the modern ambiance. With the Tracker's interior, space meets segment expectations, with a surprisingly roomy trunk due to the exterior design. This accommodates larger items with the second row folded down.
Engine Performance
In the Philippine market, the Chevrolet Tracker is uniformly equipped with a 1.0-liter turbocharged gasoline engine. This peppy engine produces 116 horsepower at 5,800 rpm and a substantial 175 Nm of torque at 4,200 rpm. The power is efficiently managed by a six-speed automatic transmission, ensuring smooth and responsive performance.
With a 40-liter fuel tank, it can demonstrate commendable fuel efficiency. During a week of testing, it can achieve an average of approximately 8.5 kilometers per liter in city driving conditions. As a result, the Tracker surprises with its punchy performance and responsive throttle, especially when there's an open road ahead.
Ride and Handling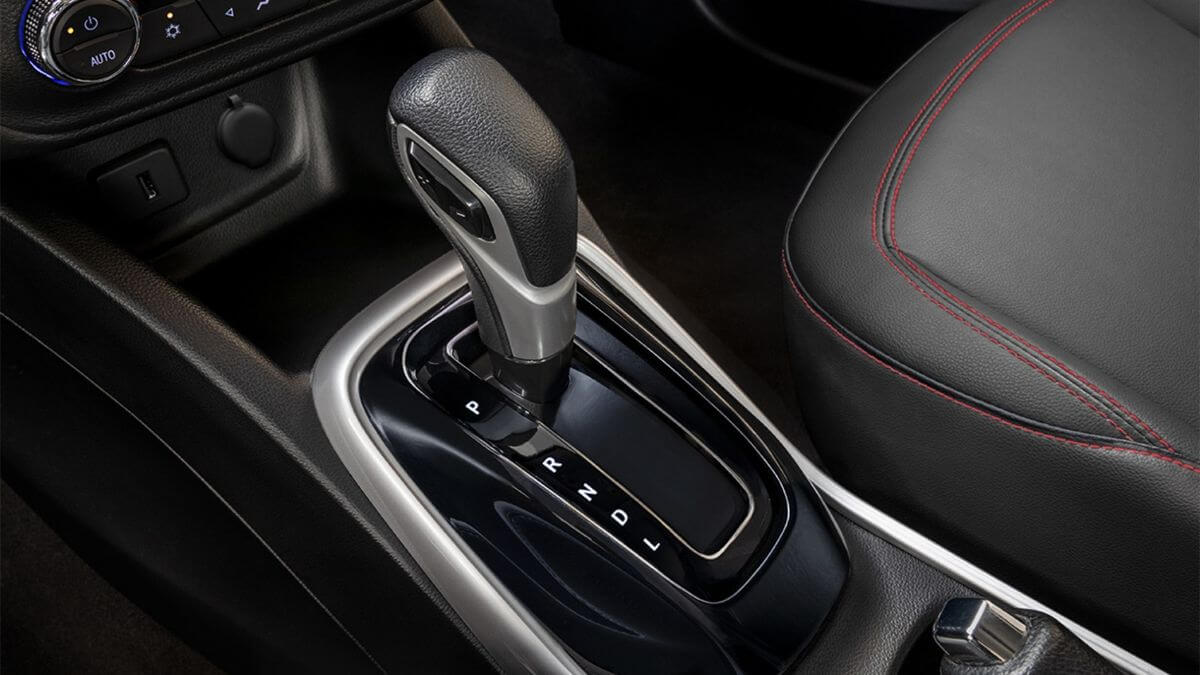 The Tracker also offers a balanced ride and handling experience. Its well-weighted steering wheel, in combination with the sharp 1.0-liter turbo engine, delivers a responsive and lively performance. This ensures an engaging driving experience, whether on open roads or in urban settings.
Additionally, this Chevy remains easy to maneuver in tight spaces, making it convenient for city driving and parking. It's because the vehicle strikes a harmonious balance between spirited performance and practical usability, catering to a wide range of driving scenarios.
Extra Features and Specifications
The Chevrolet Tracker's dashboard features an eight-inch touchscreen Infotainment System with Apple CarPlay connectivity. It's complemented by a decent six-speaker audio system, while the top Redline variant enjoys two additional rear speakers for improved sound quality.
Its push-to-start ignition system is user-friendly. On the other hand, its climate control is automatic, and device charging options include a 12V outlet and a USB port.
In terms of safety, all Tracker units come equipped with stability features, including rollover mitigation and understeer control, hill-start assist, tire-pressure monitoring, and panic brake assist, enhancing the overall safety of the vehicle.
Key Takeaway
Understanding the features and specs of the Chevrolet Tracker helps you make an informed decision, especially when you're looking for a supreme SUV in the Philippines. From its powerful and efficient engine options to its advanced safety and technology features, this vehicle offers a well-rounded driving experience.
Seize the opportunity to explore the Chevrolet Tracker for yourself. Visit our website or contact our customer service team to discover the ideal Tracker that meets your specific requirements and begin crafting lasting memories alone or with your loved ones on the road.